To assign work to individual students, groups or classes, use the Assign work button in the Dashboard. This button appears in the Book, Resources and Quizzes tabs beside any resource that can be forwarded to students for completion.
Click the Assign work button beside the resource you want to assign.
If there are multiple resources, select the work you want to assign your student, group or class and click Next.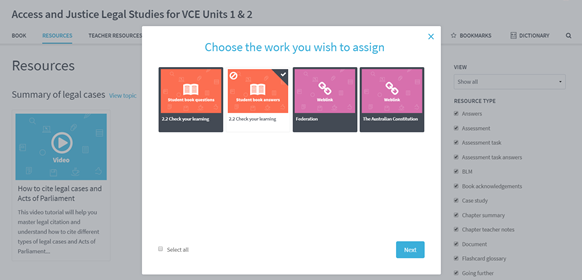 Select the student, group or class you want to assign the work to from the options provided.
Set a due date and an assign date. The assign date controls when students will receive the work and is the current date by default. Students will be assigned the work instantly unless you change this date manually.
Use the title and message fields to give the task a name and write a description that students will see when they receive the work.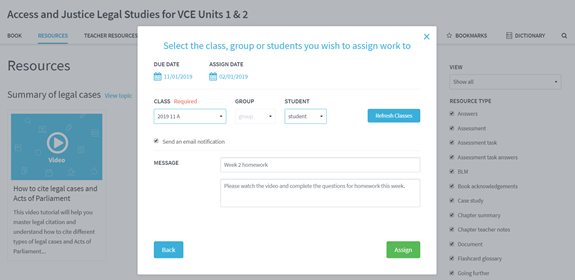 Tick the Send an email notification box to send students a copy of the assignment via email.
Click Assign to complete.
A success message will appear confirming the assignment's creation.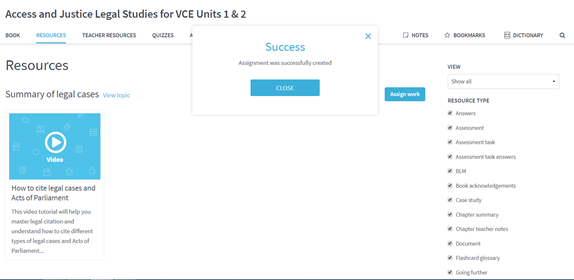 If your product looks different to the steps above, please follow the below:
Go to the assess tab in your library.
Drill down through the chapters using the '+' to select a unit from your chapter of study.
Select the blue 'a' icon to the right to preview the quiz questions.
Select the check box to the right and click assign.
Set date to assign and date due for completion.
Choose from the drop-down menu to assign to the class or an individual student.
Click assign.
Create a test from the testbank
In the assess tab in your library click on testbank.
Create a name for your test and select question types to include (multiple choice / short answer / extended response).
Choose a chapter or several chapters to draw questions from.
Refine the test by reducing the number of questions required for each question style (multiple choice/short answer/extended response).
Click view test to preview.
Use the cover notes field to add instructions to students (e.g. This is only a practice test; do your best!).
Modify the test by removing any questions you don't want to include.
Click the 'AC' icon to view ACARA content descriptor mapping for each question.
Click the mark allocation for each open-ended question to reveal the marking guidance / suggested solutions.
Click save changes.
Assign a test from the testbank
Under the heading manage and assign set tests select your test (using the radio button on the left) and click assign.
Set the date due and set date to assign.
Choose from the drop-down menu to assign to the class or an individual student.
Click assign.
Having trouble assigning work?
Check that you have:
confirmed your profile.
an obook teacher licence.
your students linked to you and classes set up.