Do you have an individual activation code for a product?
1. Login to your Oxford Owl account, or register a new account here.
2. Click on Add product

3. Enter your 12-digit activation code and click Activate. You will see a confirmation message if your code has been successfully activated.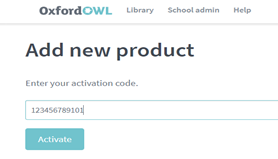 4. Once activated, your new product will now appear in your library.
Has your school purchased a school licence for a product?
If your school has purchased a school license for a product, you will have access to the product as long as you have a verified Teacher Owl account, linked to your school. Please contact the Oxford Support Team if you are a new Teacher who needs to verify your new Owl account for your school.
If you already have a verified Teacher Owl account, please follow these steps:
1. Click on Manage Classes in your Library.

2. Create a class and link it to a specific school license product. Click here for instructions on how to create classes.
3. Once you have created a class for the product, the product will appear as a tile in your Library.