IT Department / School Administrator Guidelines
To ensure your school experiences Oxford Digital running at optimum performance, please refer to these guidelines.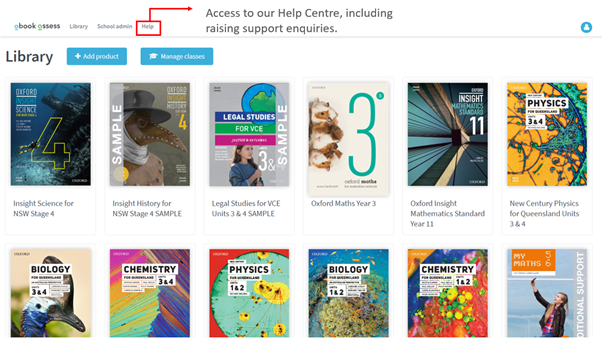 Technical Requirements
Minimum requirements
Oxford Digital is designed for use on any modern browser. The latest versions of Microsoft Edge, Chrome, Firefox, or Safari will provide the best experience. Please note, we don't recommend Internet Explorer 11. For help updating your browser, go to browsehappy.com
Javascript must be enabled (this is the default setting on most browsers).
Browser cookies should be enabled
Word 2007+ (for .docx access)
System requirements
Windows 7, 8.1, 10
Mac OS 10.8 and above
iPad / iPhone: iOS 9+
Android tablets: Android 4.0+ and above
Security
Oxford is committed to ensuring data security in the classroom. The need for secure socket layer (SSL) is important in places with open wi-fi networks. All access to Oxford Digital is secured by SSL encryption technology.
Firewalls / Intrusion Detection Technologies
Firewalls and traffic sniffing can cause interference with site access. If your school network does have specific intrusion detection technologies and have traffic sniffing in place, you will need to whitelist the Oxford Digital site URL and all associated URLs (below).
We recommend that you add the following URLs to your firewall / proxy server URL whitelist to ensure uninterrupted access to Oxford Digital and all associated resource URLs (to access hosted videos and file downloads):
https://*.oxforddigital.com.au
https://vimeo.com
http://brightcove.com
https://amazonaws.com
Downloads
The following download options are available for offline use for individuals. Contact your Oxford Representative our Digital Support if your school requires a multi-user site license. To find your local Oxford Representative, go to:
https://www.oup.com.au/contact
PDFs
The entire student text can be downloaded for offline use. Select Get PDF from the oBook Book tab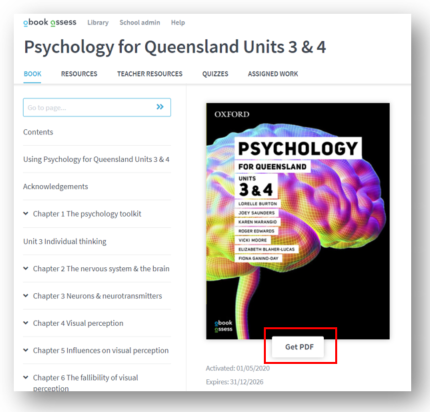 Service and Support
Comprehensive support is available in our Help Centre at https://help.oup.com.au, where you can also submit a support enquiry.
Alternatively, call us at 1300 650 616
Digital Support hours of operation are 8:30am – 4:45pm, Monday to Friday AEST (excluding public holidays).
Administer access requests
As your school's network administrator or IT department representative, if you would like to review the site, simply contact our Digital Support team to request administer access for the oBooks your school has purchased. Include your school, your position, your email address and the oBooks required in your requests.
In-service requests
If you'd like to organise a faculty / school in-service on how to get the most out of Oxford Digital, please contact your local Oxford Representative to arrange a time. Go to: https://www.oup.com.au/contact
Account set-up requests
You can create user accounts and classes within Oxford Digital, either in bulk or individually. If you would like any support with account creation, class set-up or oBook provisioning, please contact Digital Support.
Site maintenance
Oxford is committed to providing our users with fast and reliable access to our digital products. In order to continually improve our site and enhance functionality, periodic site maintenance may be necessary. Any planned outages will be completed outside of school hours to minimize any inconvenience caused by interruption to service.