1. Students can view, access and track their assignments by clicking on the RESOURCES tab.
The status filter allows you to view your Completed or Incomplete assignments. The default is to show Incomplete assignments. It will show the three most recent assignments at the top of the list.
2. You can click the SHOW MORE button to see all assignments, then COLLAPSE to get back to the top three assignments view.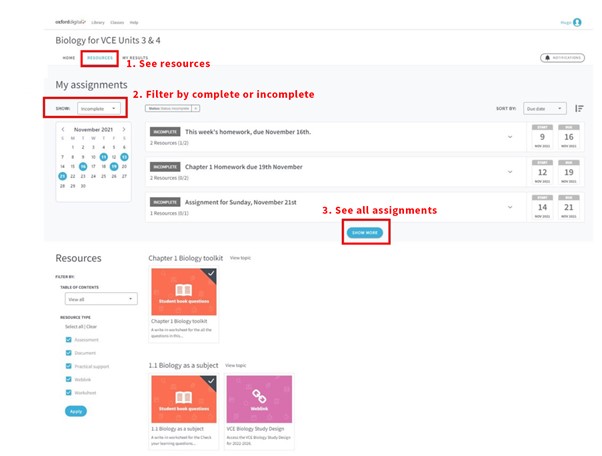 COLLAPSE button: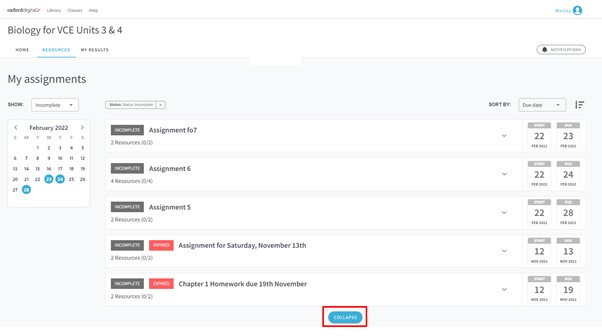 3. The blue circles you see on the calendar mean there is an assignment due that day. You can click on a blue circle to take you to the assignment due that day. You can close the filter option by clicking on the cross next to the Due date filter to return to your full list of assignments.

4. Use the SORT BY drop-down filters on the right of the screen to sort by Due date or Start date. The icon to the right of the drop-down filter allows you to sort by descending or ascending order.

5. You can expand the assignment to see the assignment details by clicking on the down arrow icon in the assignment window. You can collapse the window again using the up arrow icon.
6. When you have completed the resource within the assignment (for example the Student book questions), mark the resource as complete by clicking on the Mark as completed box that sits below the resource.